Philosophy of Migration and Asylum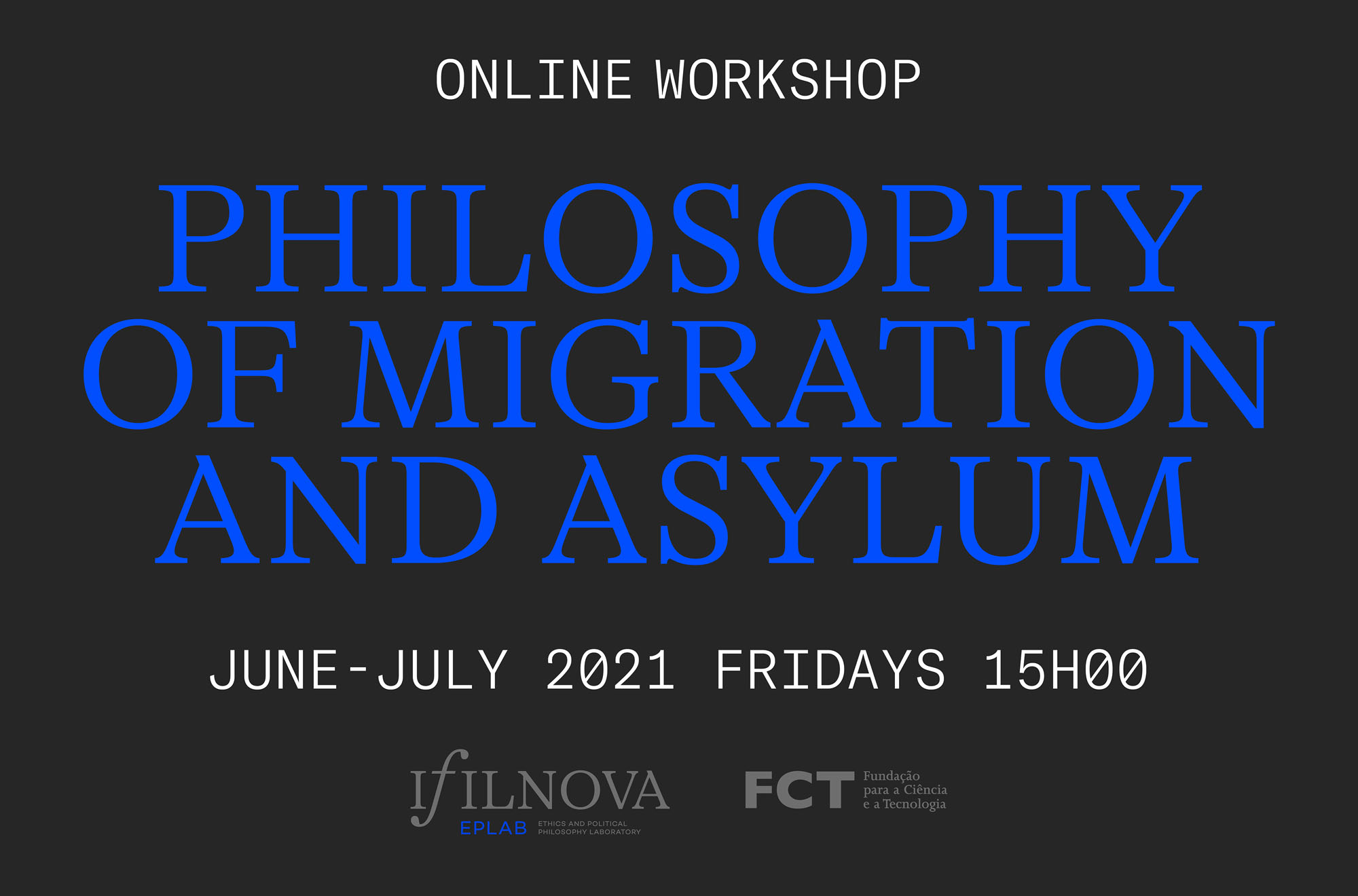 The so-called "refugee crisis" has given new impulse to the already heated debate on migration and asylum. With this workshop series, the Institute of Philosophy of the NOVA University of Lisbon invites to reassess key topics such as the right to free movement of persons vs. the states' "right to exclude", migrants' and asylum seekers' rights and duties, the concepts of integration and inclusion of third country nationals, and the state of the Common European Asylum System.
All welcome. Link on the sidebar.
04/06/2021
15:00
Across borders: Right to asylum, Right to migration? (Part 1)
Rami Gudovitch (Ben-Gurion University of the Negev)
Refugees — Morality Under Political Pressure

Rebecca Buxton (University of Oxford)
Refugee gratitude and the right to be resentful

Rufaida Al Hashmi (University of Oxford)
Is immigration only for the young?
11/06/2021
15:00
Keynote speech I
Phillip Cole (UWE, Bristol)
A Political Conception of Forced Displacement: The Question of Membership
Across borders: Right to asylum, Right to migration? (Part 2)
Lukas Schmid (European University Institute)
Saving Migrants' Basic Human Rights from Sovereign Rule

Daniel Guillery (University of Chicago)
Separating the wrong of settlement from the right to exclude: territory, culture and use rights

Regina Queiroz (NOVA University of Lisbon)
Liberal Constitutionalism and the right to asylum

Daniel Weltman (Ashoka University)
Territorial Exclusion: An Argument against Closed Borders
18/06/2021
15:00
Migration & Citizenship Rights
Tamara van den Berg (KU Leuven)
Who belongs? – A case against citizenship deprivation

Dina Mendonça (NOVA University of Lisbon)
Philosophy for Children: on integrating Others

Leonie Smith (University of Manchester)
Asylum seekers, epistemic injustice and the UK media
25/06/2021
15:00
Exodus, Diasporas & Exile
Ashwini Vasanthakumar (Queen's Law School, Ontario)
The Political Roles of Exile

Gianfranco Pellegrino (LUISS. Rome)
Diasporas as Invisible Nations. Migrants' Self-determination as an Argument for Open Borders

Tannaz Najafi (Università della Svizzera italiana, Lugano)
The impossibility of proving Asylum need

Radim Hueber (Charles University in Prague)
Territorial Asylum as the Future of International Protection

André Santos Campos (NOVA University of Lisbon)
Climate Change refugees and International Human Rights Practice: A temporal challenge
02/07/2021
15:00
A gender perspective on migration & asylum
Gloria Zuccarelli (University of Milan)
Refugee Women and Injustice: A Normative Framework

Iuliia Lashchuk (University of Warsaw and Academy of Fine arts, Catania)
What is Home to you? Women in-the-move: between philosophy and art

Eilidh Beaton (University of Pennsylvania)
Towards a Framework for Understanding Refugee Integration

Ali Emre Benli (Max Planck Institute for the Study of Religious and Ethnics Diversity)
Should refugees vote?
09/07/2021
15:00
Keynote speech II
Sarah Fine (King's College London)
Nostalgia Ain't What It Used to Be
The state of play of the Common European Asylum System
Matthias Hoesch (University of Münster)
Non-voluntary relocation in schemes of fair burden sharing

Alec Ross (University of Edinburgh)
The Marketisation of Refuge: A Defence Against the Norms Objection

Elizabeth Challinor (NOVA University of Lisbon & CRIA)
She didn't even take the slippers. I didn't take offence. Reactions to refugee secondary movement from Portugal examined from an Anthro-philosophical perspective
Date
04/06/2021 – 09/07/2021