EPLab
• International Conference
SUBSTANTIVE FUTURE RIGHTS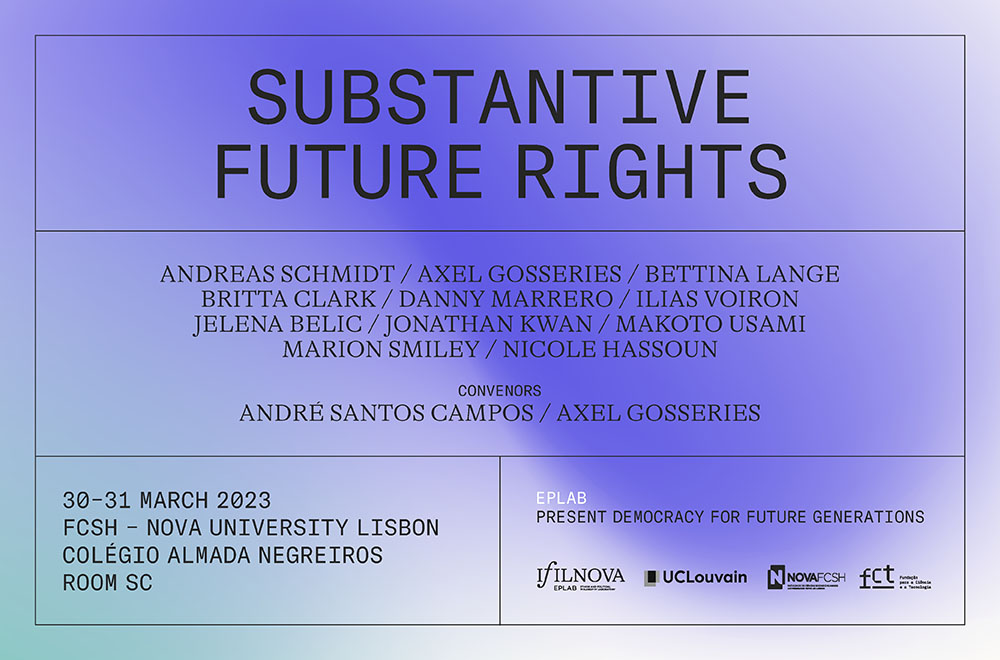 International Conference
SUBSTANTIVE FUTURE RIGHTS
30-31 March 2023
VENUE
FCSH | NOVA University Lisbon
Colégio Almada Negreiros – Room SC
SPEAKERS
Andreas Schmidt / Axel Gosseries / Bettina Lange / Britta Clark / Danny Marrero / Ilias Voiron / Jelena Belic / Jonathan Kwan / Makoto Usami / Marion Smiley / Nicole Hassoun
CONVENORS
André Santos Campos & Axel Gosseries
Some of the most important and pressing questions today about justice and contemporary societies are cross-temporal. Intergenerational issues are called to address questions such as what justice requires between different age groups and what responsibilities people today have towards those who will be born in the future. These responsibilities are understood often in terms of rights that future persons have against people in the present. This poses a challenge to the nature of rights in temporally sensitive contexts, especially when weighing rights held by people in the present against rights (that will be) held by people in the future.
This conference aims to focus on the present moral and legal status of substantive rights (as opposed to procedural ones) for future people or future generations. More specifically, we aim to inquire into the relevance of futurity in certain substantive rights, what sort of future rights could be included in constitutions or human rights lists, and which ways could be developed to interpret current rights as applicable to future people.
Participation is free and all are welcome. If you wish to receive the Zoom link, please contact André Santos Campos at andrecampos@fcsh.unl.pt.
This conference is jointly organised by the Hoover Chair of Economic and Social Ethics (UCLouvain) and by the NOVA Institute of Philosophy (IFILNOVA) within the framework of the FCT-funded project "Present Democracy for Future Generations" (PTDC/FER-FIL/6088/2020).
30/03/2023
09:30 – 10:00
André Santos Campos (NOVA University Lisbon)
Opening address
Future Rights in the Present: Theoretical Inquiries
10:00 – 11:00
Panel 1
Makoto Usami (Kyoto University)
Beyond the Threshold Conception of Posterity Rights

Britta Clark (Harvard University)
Substantive Rights Across Time: Should Each Generation Pass on as Much As it Received?

Chair: Pablo Magaña Fernández
11:00 – 11:30
Coffee break
11:30 – 12:30
Panel 2
Nicole Hassoun (Binghamton University)
Aiding the Poor in Present and Future Generations: How Accepting that those in Future Generations have some Substantive Rights to a Basic Minimum can Guide our Efforts and a Simple Model

Ilias Voiron (Jean-Moulin Lyon 3 / University of Fribourg) 
Is There a Future Right Not to Suffer Heavy Moral Burdens? *online*

Chair: Inês Cisneiros
14:00 – 15:30
Panel 3
Jonathan Kwan (NYU Abu Dhabi) 
The Normative Link Between Existing Collective Rights to Eco-Political Self-Determination and Future Rights to a Clean Environment *online*

Danny Marrero (University of Texas Rio Grande Valley)
Do the Rights of Future Generations depend on the Rights of Natural Entities? *online*

Bettina Lange (Radboud University Nijmegen / Nottingham UK)
Future Transport-related Autonomy Rights *online*

Chair: Ramiro de Ávila Peres
31/03/2023
10:00 – 11:30
Panel 4
Marion Smiley (Brandeis University)
Community through time: Guaranteeing the Rights of Future Generations *online*

Andreas Schmidt (University of Groningen)
Long-term Liberalism and the Freedom of Future People *online*

Jelena Belic (Leiden University)
Diachronic Rights *online*

Chair: Devon Cass
11:30 – 11:45
Coffee break
11:45 – 12:15
Axel Gosseries (Université catholique de Louvain)
Closing address
No Future for Future Rights?
Date
30/03/2023 – 31/03/2023
Place
Colégio Almada Negreiros, Room SC