King's and Nova Nietzsche Seminar
A new international partnership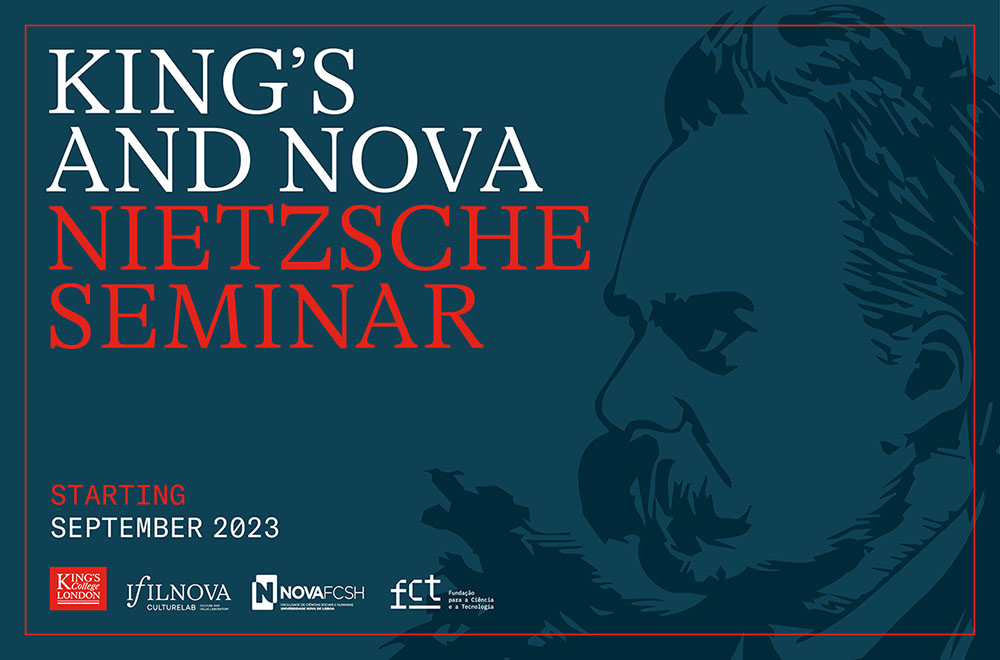 IFILNOVA is pleased to announce a partnership between King's College London and the Lisbon Nietzsche Group of the NOVA Institute of Philosophy of NOVA University Lisbon. Starting this year, the "London Nietzsche Seminar", one of the leading Nietzsche seminars in the academic world, will be known as the "King's and Nova Nietzsche Seminar", marking a new era of discussions and investigations on Nietzsche's thought. Hosted by Birkbeck College since its interception in 2014, the seminar has included participants from the UK, USA, Australia, Canada, Germany, Italy, Portugal, the Netherlands, Estonia, and Switzerland. Presenters have included, Alexander Nehamas (Princeton), Robert Pippin (Chicago), John Richardson (NYU), Bernard Reginster (Brown), Brain Leiter (Chicago), Maudemarie Clark (Riverside), Chris Janaway (Southampton), Micheal Forster (Bonn), Rachel Christy (Kings), Aaron Ridley (Southampton), Melissa Lane (Princeton), Andrew Huddleston (Warwick) and Sebastian Gardner (UCL). Originally, the conveners of the seminar were Ken Gemes and Andrew Huddleston, and later Ken Gemes and Tim Stoll.
Each session is dedicated to two hours of intense discussion with the author of a pre-circulated paper. The regular participants are Nietzsche specialists from around the UK, research students from the host and other institution specializing in Nietzsche and interested philosophy faculty from the host institution. Generally, there have been two to four seminars per term.
The partnership between King's College and NOVA represents a unique combination of knowledge and expertise, bringing together two internationally recognized institutions of prestige. Soon, dates, venue, and other details about the program of the King's and Nova Nietzsche Seminar will be announced.