CineLab
• International Seminar
Collective film structures
Intensive Seminars #5: Marwa Arsanios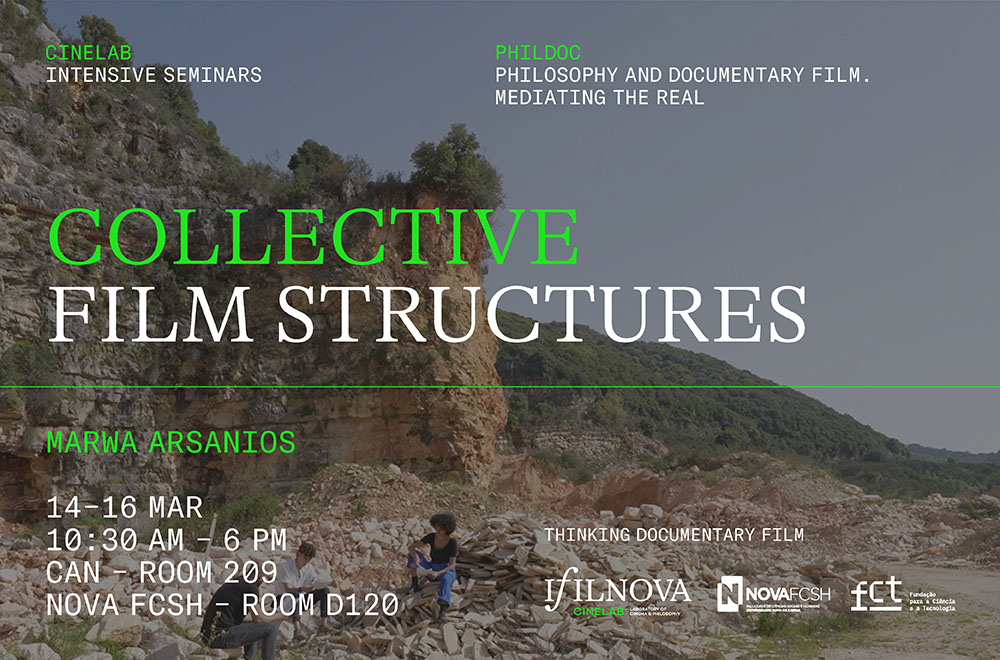 The three-day intensive seminar Collective film structures, led by Marwa Arsanios, will take place at Colégio Almada Negreiros (Room 209) on March 14 and 15, and at NOVA FCSH (Room D120, Building D) on March 16.
In this workshop we will look at a few filmmaking processes that are challenging notions of authorship, hierarchical work structures and proposing alternative filmmaking infrastructures that in turn produce new filmic forms. Using different anarchist organisational tactics along other tools and methodologies these collective and cooperative filmmaking processes propose a counter political project. We will think about these practices through different filmic and textual material as well as a practical exercise of structure building.
Bio
Marwa Arsanios' practice tackles structural and infrastructural questions using different devices, forms and strategies. From architectural spaces, their transformation and adaptability throughout conflict, to artist run spaces and temporary conventions between feminist communes and cooperatives, the practice tends to make space within and parallel to existing art structures allowing experimentation with different kind of politics. Film becomes another form and a space for connecting struggles in the way images refer to each other.
In the past four years Arsanios has been attempting to think about these questions from a new materialist and a historical materialist perspective through different feminist movements that are struggling for their land. She tries to look at questions of property, law, economy and ecology from specific plots of land. The main protagonists become these lands and the people who work them.
Her research includes many disciplines and is deployed in numerous collective methodologies and collaborative projects.
Solo shows include: Heidelberger Kunstverein (2023), Mosaic Rooms, London (2022), Contemporary Arts Center, Cincinnati (2021); Skuc Gallery, Ljubljana (2018); Beirut Art Center (2017); Hammer Museum, Los Angeles (2016); Witte de With, Rotterdam (2016); Kunsthalle Lissabon, Lisbon (2015); and Art in General, New York (2015). Her work has also been featured in numerous group exhibitions including: Documenta 15 (2022), Mardin biennial (2022), Sydney Biennial film program (2022), 3rd Autostrada Biennale, Pristina (2021); 11th Berlin Biennale (2020); The Renaissance Society, Chicago (2020); Gwangju Biennial (2018); Lülea Biennial (2018); Kunsthalle Wien (2019); 1st Sharjah Architecture Triennial (2019); SF Moma, San Francisco (2019); Warsaw Biennial (2019); 14th Sharjah Biennale (2019); Maxxi Museum, Rome (2017); Ludwig Museum, Cologne (2016); Thessaloniki Biennial (2015); Home Works Forum, Ashkal Alwan, Beirut (2010, 2013, 2015); New Museum, New York (2014); 55th Venice Biennial (2013); M HKA, Antwerp (2013),); the 12th Istanbul Biennial (2011).
Her films have been screened at Cinéma du Réel, Paris (2021); Rotterdam Film Festival (2021); Film Fest, Hamburg (2020); FID Marseille (2015, 2019, 2022); tiff, Toronto (2019); Berwick Film & Media Arts Festival (2019); Walker Art Center, Minneapolis (2017); Centre Georges Pompidou, Paris (2011, 2017,2022); Berlin International Film Festival (2010, 2015).
Arsanios was a researcher in the Fine Art Department at the Jan Van Eyck Academie, Maastricht (2010–12). She is currently a PhD candidate at the Akademie der bildenden Künste in Vienna.
This seminar is open to graduate and postgraduate students and the general public. Please write an email to phildoc@fcsh.unl.pt if you would like to attend. Registration is mandatory, as places are limited.
This event is organized by the working group Thinking Documentary Film and part of the project Philosophy and Documentary Film. Mediating the Real, funded by national funds through FCT – Fundação para a Ciência e a Tecnologia under the project EXPL/FER-FIL/0045/2021.
Date
14/03/2023 – 16/03/2023
Place
Colégio Almada Negreiros – Room 209 / NOVA FCSH – Room D120 (Building D)