Dominic Jaeckle
On Craquelure (Publication as Philosophical Project)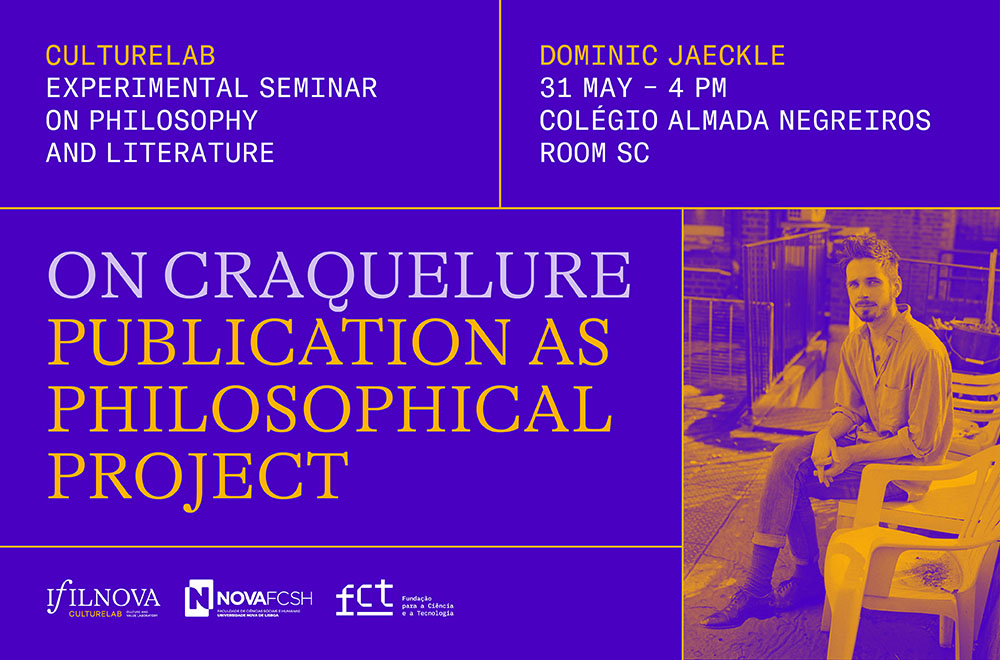 The third session of IFILNOVA's Experimental Seminar on Philosophy and Literature will take place on May 31, from 4:00 to 5:30 pm, in room SC of Colégio Almada Negreiros, and will be hosted by Dominic Jaeckle, publisher of Tenement Press, who will give a presentation entitled "On Craquelure (Publication as Philosophical Project)".
Amazon appropriated our books. We will appropriate Amazon's logic.
Jorge Carrión
"Craquelure" is a term for the network of fine cracks that appear in the varnish of an oil painting over time. The morphology of these cracks displays the dynamics of history on the surface of a canvas, effecting an image with a new set of desire lines, with distortions—a kind of pictorial "crow's feet" that delineate a painting's age and antiquity—and these fissures or fault lines explicitly show (to quote novelist Chloe Aridjis) how every surface "gives way to tension", in end. To fixate on this equation—an image or idea over time—provides a perfect metaphor with which to think through a publisher's impulses and the mechanics of publication as a form of production or creative expression. Factoring in the work of Jules Verne, Jorge Carrión, and Ingeborg Bachman—the varied currents of a contemporary literary mainstream and the deep rivers of a "minor" literature (by way of the anti-institutionalism of Adorno's 'Valéry Proust Museum')—Jaeckle's presentation will explore "craquelure" as a means of discussing the work of the small press publisher today via a fragmentary set of notes excerpted from a forthcoming anthology project, Seven Rooms (Tenement Press and Prototype Publishing, 2023). The presentation will conclude with a short showcase of works from Tenement's catalogue (featuring translations of works by Pier Paolo Pasolini, Joan Brossa, Reza Baraheni, and Dolors Miquel, amongst others).
Bio
Dominic J. Jaeckle is a writer, editor and broadcaster. Jaeckle curates and collates the irregular magazine Hotel and its adjacent projects, and runs a minor publisher, Tenement Press. See dominicjaeckle.com.
If you are interested in hosting a future session or in receiving more information about this event, please contact Ana Falcato at anafalcato@fcsh.unl.pt. All are welcome!
Next session
15 Jun – Tatiana Salem Levy (IFILNOVA)
Colégio Almada Negreiros, room SC
Experimental Seminar on Philosophy and Literature
Place
Colégio Almada Negreiros, Room SC