Hadot and Foucault on Ancient Philosophy: Critical Assessments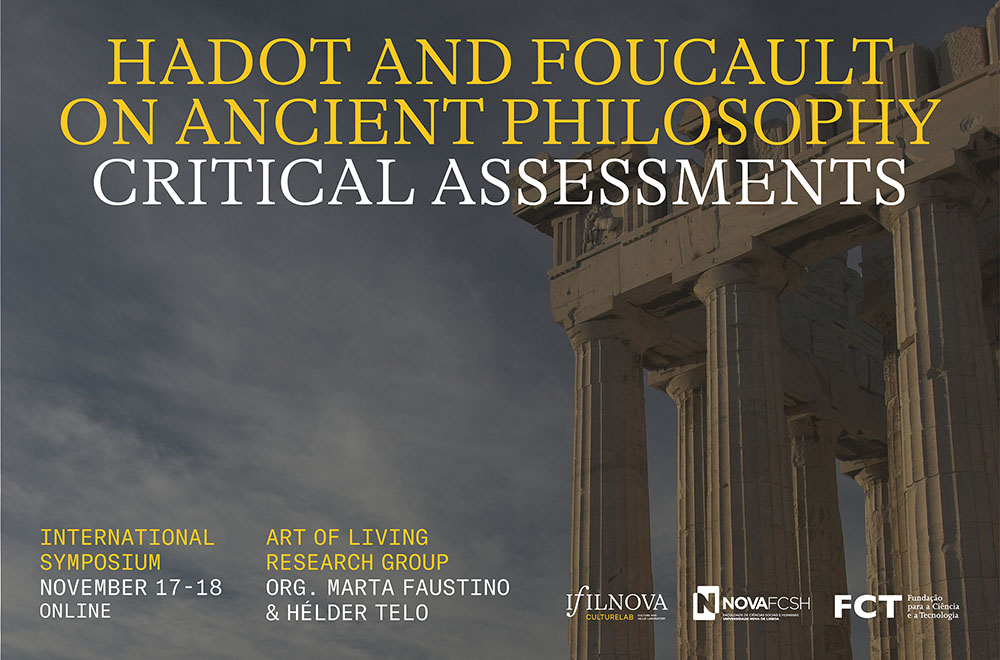 Pierre Hadot's thought was largely developed on the basis of his interpretation of ancient philosophy, and the same applies to Michel Foucault's late thought, which is in many important aspects inspired by and congenial with Hadot's. Their interpretations have become very well-known and influenced not only ancient studies, but also contemporary debates on what philosophy is or should be. However, as it generally happens with the most interesting and original approaches, their reading of ancient philosophy is not consensual and many scholars (Martha Nussbaum, John Sellars and John Cooper, among others) have criticized their interpretation on several crucial points – such as the idea and role of spiritual exercises/technologies of the self; the apparent neglect of rationality, rational argumentation and truth; the conception of the very process of self-transformation; the insufficient characterization of what distinguishes philosophy from other arts of living, especially religion; etc.
The aim of this symposium is to discuss these and other possible criticisms, in order to work towards a critical assessment of Hadot and Foucault's approach to ancient philosophy. To that end, the symposium will bring together scholars of ancient philosophy, on the one hand, and specialists in the thought of Hadot and/or Foucault, on the other. While the former will engage with particular aspects of Hadot and/or Foucault's readings of ancient philosophy, the latter will reply to already well-known polemic issues in both authors' approaches. In so doing, the symposium will cover the central concepts and ideas of these two authors, approaching them from different perspectives and appraising both their weaknesses and their strengths, in order to provide a deeper insight into the importance of these authors for our understanding of ancient thought and perhaps the very way we conceive of and practice philosophy.
Signup link here.
ORG.
Marta Faustino & Hélder Telo
17/11/2021
10:00
Daniele Lorenzini (Warwick University)
Parrhēsia as a Way of Life
11:00
Paulo Lima (NOVA University of Lisbon)
Discourse or Pure Visibility? A Question Concerning Foucault's Latest Account of Parrhēsia
14:00
Hélder Telo (NOVA University of Lisbon)
The Central Role of Reason and Rational Argument in Ancient Philosophy: On a Common Objection to Hadot and Foucault
15:00
Annie Larivée (Carleton University)
Clearing Up the Confusion Between Art of Life and Way of Life: A Challenge to Hadot's Main Interpretive Concept
16:30
Fábio Serranito (University of Leeds)
Foucault, Reader of Plato: The Problem of Epimeleia tou Biou
17:30
Paul Allen Miller (University of South Carolina)
The Problem of the Dandy in the Aesthetics of Existence: Foucault's Dialogue with Hadot, Kant, and Baudelaire
18/11/2021
10:00
Matthew Sharpe (Deakin University)
Between Physics and Ethics, the Other: Inflecting the Hadot-Foucault Debate in Light of L'herméneutique du sujet
11:00
Eli Kramer (University of Wroclaw)
The Pregnant Possibilities of Creative Misreading: Toward a Hadotian Hermeneutics of the Legacy of the Ancient Adventure of Ideas
14:00
Marta Faustino (NOVA University of Lisbon)
A Contamination of Philosophy by Religion? Reassessing Hadot's Notion of Spiritual Exercises
15:00
Gianfranco Ferraro (Open University of Lisbon)
Philosophical Mythoi: The Birth of Spirituality from the Nature of Things
16:30
Konrad Banicki (Jagiellonian University)
Ancient Stoicism. Between Spiritual Exercises and Cognitive Therapy
17:30
Michael Chase (CNRS)
Pierre Hadot and His Critics on Spiritual Exercises and Cosmic Consciousness

UTC / GMT / Lisbon time
Date
17/11/2021 – 18/11/2021