James S. Pearson
Nietzsche on Conflict, Struggle and War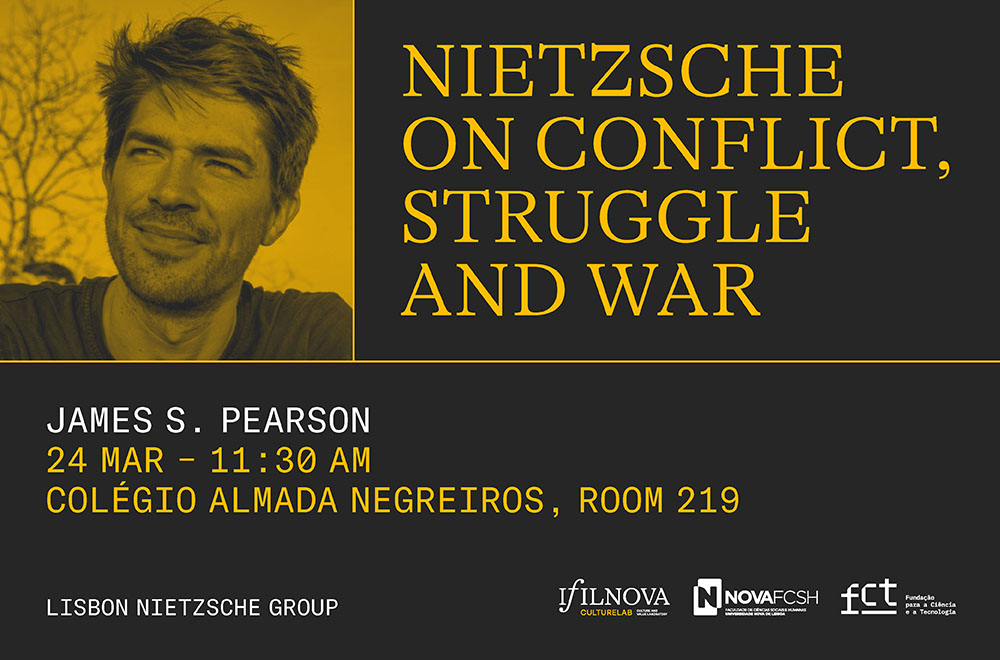 Conflict is a fundamental concept within Nietzsche's social and political philosophy. There is a great deal of disagreement, however, regarding the specific type of conflict that Nietzsche himself endorses. Some read him as an aristocratic warmonger; others, though, interpret him as a democratically minded advocate of non-violent contest or agon. In a recently published monograph – Nietzsche on Conflict, Struggle and War (CUP, 2022) – I try to resolve this controversy by constructing a unified account of Nietzsche's understanding of conflict. This presentation provides an overview of the main findings of this monograph.
Bio
James S. Pearson is a Junior Researcher at the University of Lisbon (CFUL). He previously worked as a lecturer in philosophy at Leiden University (NL) and as a postdoctoral researcher at the University of Tartu (Estonia). Aside from the monograph being discussed in this presentation, James has co-edited (with Herman Siemens) a volume on Nietzsche's philosophy of conflict (Bloomsbury, 2018) and published articles in various journals, including Nietzsche-Studien, The Journal of Nietzsche Studies, The Canadian Journal of Philosophy and the Archiv für Geschichte der Philosophie.
To join the session on Zoom, click here.
Place
Colégio Almada Negreiros, Room 219 & Online