CineLab
• International Seminar
Seizing the Past: Radical Re-enactment in Documentary
Intensive Seminars #6: Zoe Beloff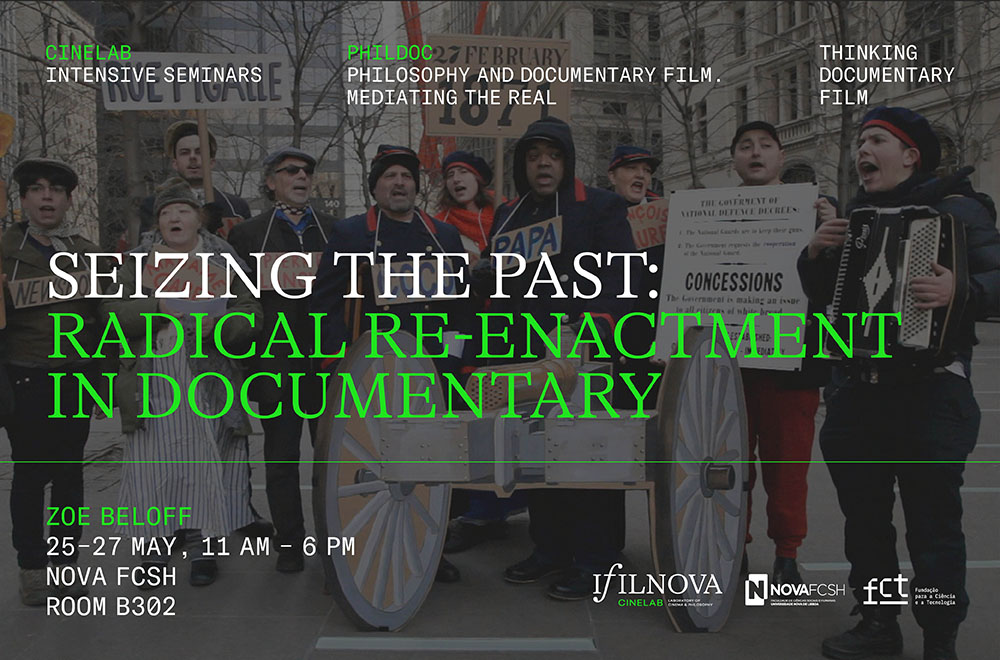 This workshop will be a space for participants to explore new ideas on re-staging history. In a counter spirit to traditional historical drama, we will question the idea of creating a seamless illusion of the past, focusing on how re-enactment can be a device to rupture time, bringing the past into the present to help us imagine the future in a spirit of liberation. We will look at ways in which restaging events can defamiliarize our world, revealing the cracks and fissures of what we think we know, opening up a space for what has been forgotten, suppressed, or deliberately left out of the official record. Did history have to turn out the way it did, or can we rewrite it anew?
The workshop will be structured around several themes, "A Compulsion to Repeat: Time Motion Studies", "Now Time: staging the past in the present", "The Unfaithful Re-enactment" and "Utopia Exploded". Films by Agnese Cornelio, Rodrigo Reyes, The Wooster Group, Danielle Huillet and Jean-Marie Straub will be screened along with my own work.
Bio
Zoe Beloff is a filmmaker and artist based in New York. With a focus on social justice, she draws timelines between past and present to imagine a more egalitarian future. She directed a trilogy of movies, based on ideas for films proposed by never realized by left artists, Eisenstein's scenario Glass House, Brecht's A Model Family in a Model Home and James Agee's The Tramp's New World. She has just completed a documentary public artwork @ WORK. Zoe's projects have been presented in many places including the Whitney Museum, MoMA, the Pompidou Center, International Film Festival Rotterdam, FID Marseille and the Essay Film Festival in London. She was the recipient of a Guggenheim Fellowship (2004) and a Fellowship from Radcliffe College (2013). She is a professor at Queens College CUNY.
This seminar is open to graduate and postgraduate students and the general public. Please write an email to phildoc@fcsh.unl.pt if you would like to attend. Registration is mandatory, as places are limited.
This event is organized by the working group Thinking Documentary Film, and part of the project Philosophy and Documentary Film. Mediating the Real, funded by national funds through FCT — Fundação para a Ciência e a Tecnologia under the project EXPL/FER-FIL/0045/2021.
Date
25/05/2023 – 27/05/2023
Place
NOVA FCSH (Av. de Berna 26C), Tower B – Room B302