Elite Theory. Philosophical Challenges
5th TOPOI Conference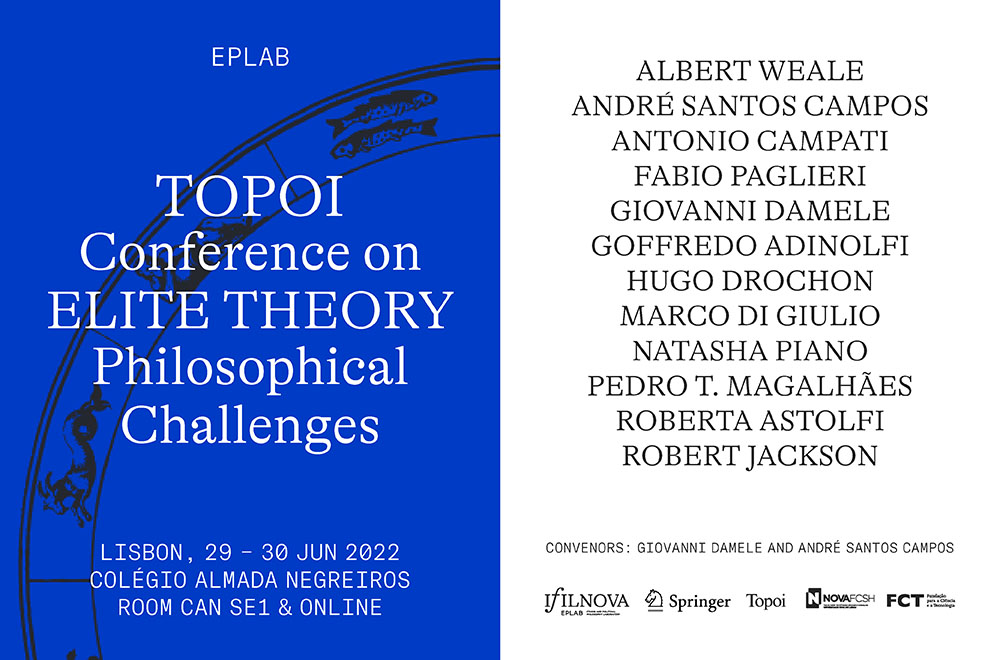 The TOPOI conference on Elite Theory. Philosophical Challenges will be held in a hybrid format at Colégio Almada Negreiros (room CAN SE1) and online, via Zoom. Attendance is free. If you wish to receive the Zoom link, please contact giovanni.damele@fcsh.unl.pt.
The conference is the fifth installment of the TOPOI conference, sponsored by Springer, which also originated a thematic collection on its subject matter (Topoi, 41(1)).
Convenors: Giovanni Damele and André Santos Campos.
29/06/2022
09:30
Welcome and Introduction
André Santos Campos (NOVA University Lisbon), Giovanni Damele (NOVA University Lisbon)
09:45
Opening Address
Fabio Paglieri (CNR Roma; Editor-in-Chief of TOPOI. An International Review of Philosophy – Springer)
10:00
Hugo Drochon (University of Nottingham)
Pareto, the Circulation of Elites, and Dynamic Democracy
10:40
Antonio Campati (Università Cattolica del Sacro Cuore, Milano)
The Problem of Elite Concept and the Vertical Dimension of Representative Democracy
11:30
Roberta Astolfi (Freie Universität Berlin)
Discussing a Different Elite. Can a Hegemonic Majority Break the Iron Law of Oligarchy?
12:10
Marco Di Giulio (Università di Genova)
Did Elitists Really Believe in Social Laws? Some Epistemological Challenges in the Work of Gaetano Mosca and Vilfredo Pareto
14:30
Pedro T. Magalhães (Universidade do Minho, Braga)
Charisma and Democracy: Max Weber on the Riddle of Political Change in Modern Societies
15:10
Goffredo Adinolfi (ISCTE-IUL, Lisboa)
Continuities and Discontinuities in the Processes of Elite Recruitment: The Italian Political Field Between Authoritarianism and Democratic Regime
16:00
Giovanni Damele (NOVA FCSH, Lisboa)
The Italian Roots of (Liberal) Democratic Elitism
30/06/2022
10:00
Albert Weale (UCL, London)
Democracy without the Will of the People [online]
10:40
Robert Jackson (Manchester Metropolitan University)
"Disfigurations" of Democracy? Pareto, Mosca and the Challenge of Elite Theory [online]
11:20
Natasha Piano (University of Chicago)
An Angry Warning: Pareto and Elite Equilibrium [online]
Date
29/06/2022 – 30/06/2022
Place
Colégio Almada Negreiros – Room CAN SE1 & Online