Kant | atitudes, experiências, valores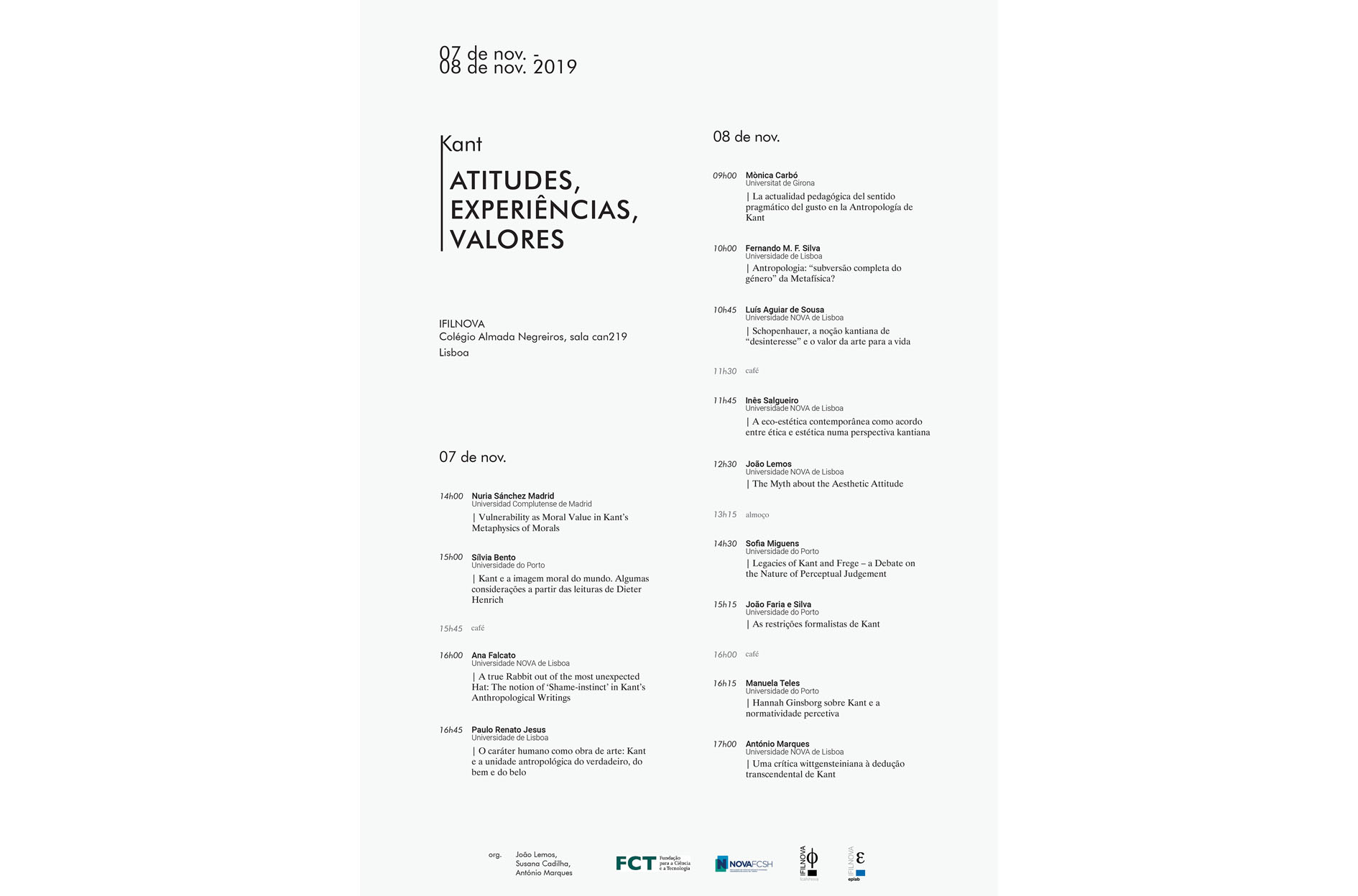 Org.: João Lemos, Susana Cadilha, António Marques.
07/11/2019
14:00
Nuria Sánchez Madrid, Universidad Complutense de Madrid
Vulnerability as Moral Value in Kant's Metaphysics of Morals
15:00
Sílvia Bento, Universidade do Porto
Kant e a imagem moral do mundo. Algumas considerações a partir das leituras de Dieter Henrich.
16:00
Ana Falcato, Universidade NOVA de Lisboa
A true Rabbit out of the most unexpected Hat: The notion of 'Shame-instinct' in Kant's Anthropological Writings
16:45
Paulo Renato Jesus, Universidade de Lisboa
O caráter humano como obra de arte: Kant e a unidade antropológica do verdadeiro, do bem e do belo
08/11/2019
09:00
Mònica Carbó, Universitat de Girona
La actualidad pedagógica del sentido pragmático del gusto en la Antropología de Kant
10:00
Fernando M. F. Silva, Universidade de Lisboa
Antropologia: "subversão completa do género" da Metafísica?
10:45
Luís Aguiar de Sousa, Universidade NOVA de Lisboa
Schopenhauer, a noção kantiana de "desinteresse" e o valor da arte para a vida
11:45
Inês Salgueiro, Universidade NOVA de Lisboa
A eco-estética contemporânea como acordo entre ética e estética numa perspectiva kantiana
12:30
João Lemos, Universidade NOVA de Lisboa
The Myth about the Aesthetic Attitude
14:30
Sofia Miguens, Universidade do Porto
Legacies of Kant and Frege – a Debate on the Nature of Perceptual Judgement
15:15
João Faria e Silva, Universidade do Porto
As restrições formalistas de Kant
16:15
Manuela Teles, Universidade do Porto
Hannah Ginsborg sobre Kant e a normatividade percetiva
17:00
António Marques, Universidade NOVA de Lisboa
Uma crítica wittgensteiniana à dedução transcendental de Kant
Date
07/11/2019 – 08/11/2019
Place
Colégio Almada Negreiros – CAN 219