3 Master's Research Grants
applications between from july, 6 to 19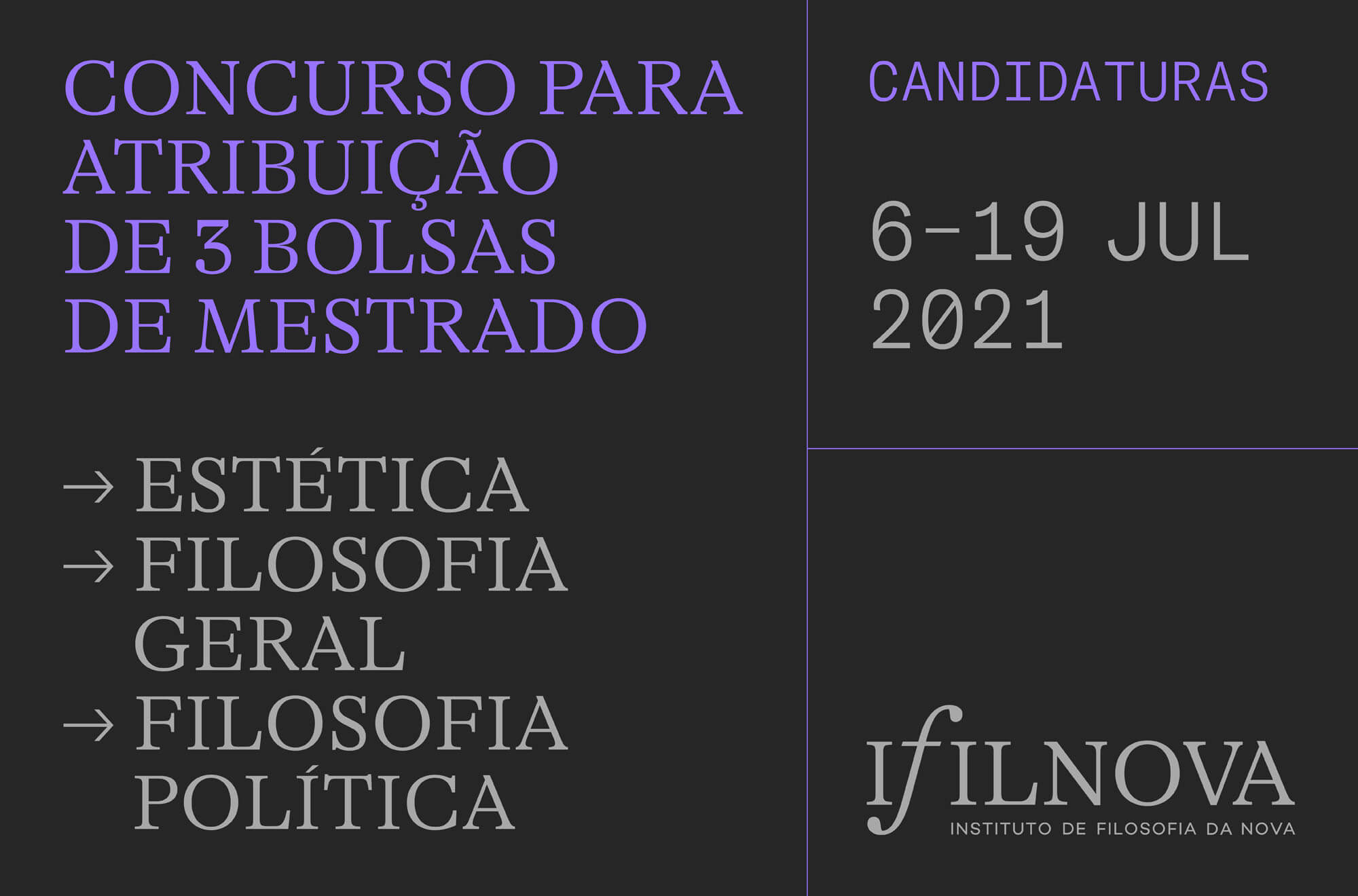 A call is now open for three research grants for students enrolled in a Masters degree, for the consolidation of their academic training through the development of research to obtaining the respective academic degree. This Masters Degree can be integrated in R&D projects, such as in the areas of Aesthetics (1 scholarship), General Philosophy (1 scholarship) and Political Philosophy (1 scholarship).
The duration of the scholarships is of 6 months, renewable up to a maximum of 18 months. Scheduled to start in October 2021. The competition is open between 6th July 2021 and 23:59 (Lisbon time) on 19th July 2021. See all requirements here.
FREQUENTLY ASKED QUESTIONS
Do I need to be enrolled in the Masters to apply to the grant?
Yes. Applications without proof of enrollment in the Masters in Philosophy at the Faculty of Social and Human Sciences at Universidade Nova de Lisboa will be excluded.
I have a foreign degree. Can I apply to the scholarship?
Yes. Candidates with diplomas issued by foreign higher education institutions can apply and will be evaluated using the same criteria as candidates with diplomas issued by Portuguese institutions, provided that they present, in their application, proof of recognition of academic degrees and conversion of the final classification for the Portuguese classification scale under the terms of the applicable legislation. More info here and here. Candidates with foreign degrees who do not show proof of conversion from the final classification to the Portuguese classification scale will be assessed with the minimum classification (10 points) in Subcriterion A1.
I haven't decided the subject of my Masters. How can I write a work plan?
The main objective of IFILNOVA is the development of research programs focused on human action and the construction of values at ethical, aesthetic, political and argumentative levels. The work plan proposed by each candidate must be part of the programs developed by one of the four laboratories above. Have a look on our website.
Must my supervisor be an integrated member of IFILNOVA?
Yes. Only the jury members, including the president, cannot be a supervisor or co-supervisor of candidates who are submitting grant applications.
Can I apply to the 3 grants?
No. Each candidate may submit only one application.