CultureLab
• Permanent Seminar
Libera Pisano
Wandering across Languages. Linguistic Understanding of Diaspora in Contemporary Jewish Thought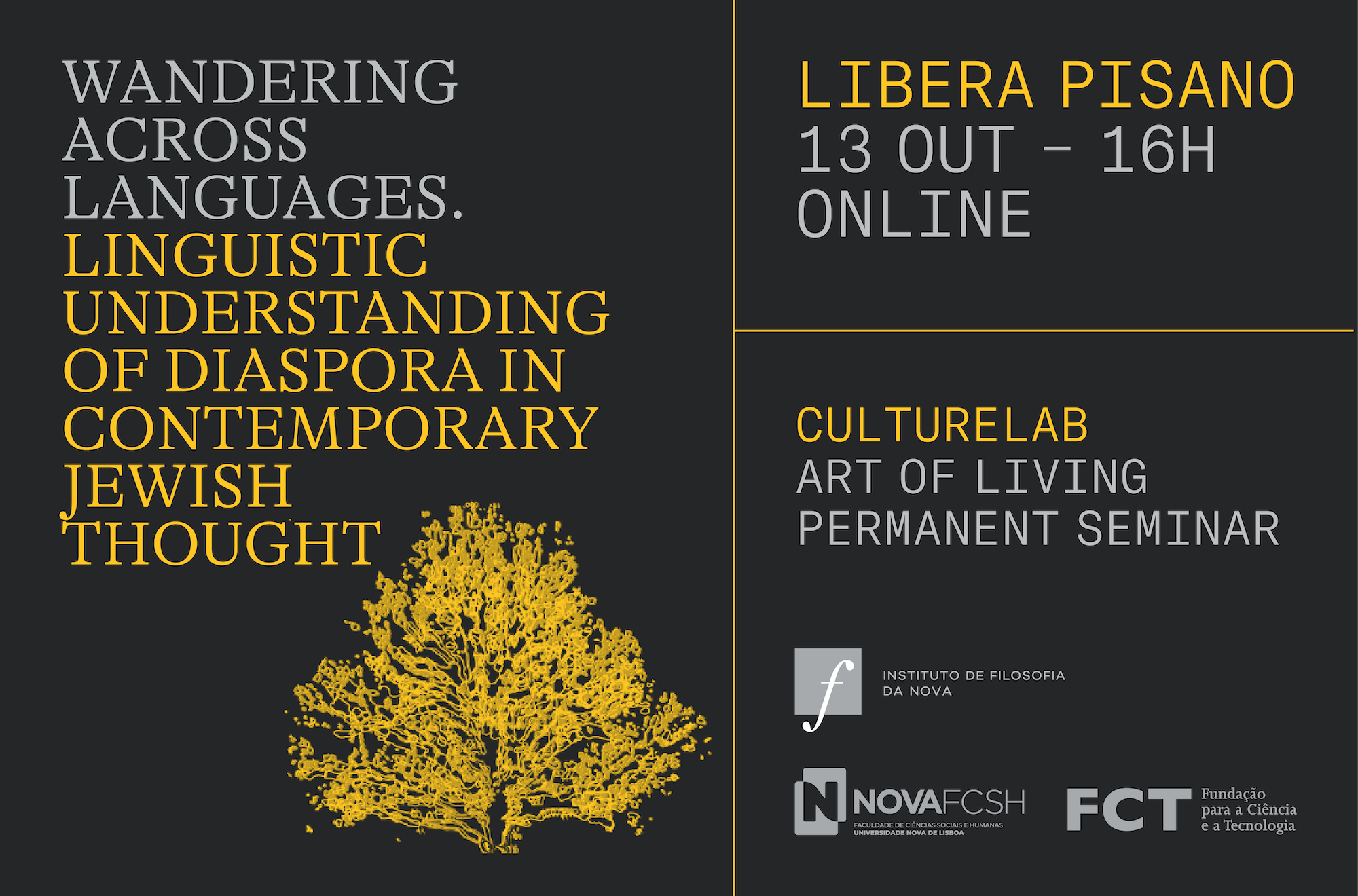 The next session of the permanent seminar of the Art of Living Research Group will take place on Wednesday, the 13th, at 16:00, via Zoom. The session will be led by Libera Pisano (University of Barcelona/Universidade NOVA de Lisboa), who will present a talk entitled "Wandering across Languages. Linguistic Understanding of Diaspora in Contemporary Jewish Thought".
National identities are, broadly speaking, built on the historical correspondence between homeland and language. Still, this combination does not apply to Diaspora communities and notably to Jews, whose identity along centuries was rooted in a displaced homeland and spread over distinct languages. One of the specific aspects of Diasporical Jewish thought is the linguistic conception underlying the notion of wandering, provided that exile does not only concern the abandonment of one's land, but also one's language. In my research project I will examine the linguistic understanding of Diaspora among German-Jewish thinkers—such as Gustav Landauer, Margarete Susman, Franz Rosenzweig, Hannah Arendt—by considering two hermeneutic issues: the link between mother-tongue and fatherland, and the philosophical problem of translation and its political implication.
This session will be held in English. To join the event, click here. All welcome.
Next Sessions
10 Nov: Eli Kramer (University of Wroclaw)
"Philosophical Wandering Across Cultures: FromCynicism to Rinzai Zen"

15 Dec: Antonio Cardiello (Universidade NOVA de Lisboa)
"A capacidade negativa como arte de viver: de Keats a Pessoa"

12 Jan: Hélder Telo (Universidade NOVA de Lisboa)

09 Feb: Luís Gouveia Monteiro (Universidade NOVA de Lisboa)

09 Mar: Simone D'Agostino (Pontifical Gregorian University, Rome)

13 Apr: tbd

11 May: tbd

08 Jun: tbd
Art of Living Permanent Seminar