CineLab
• Public screening
Memories for a Private Eye
Rania Stephan, 2015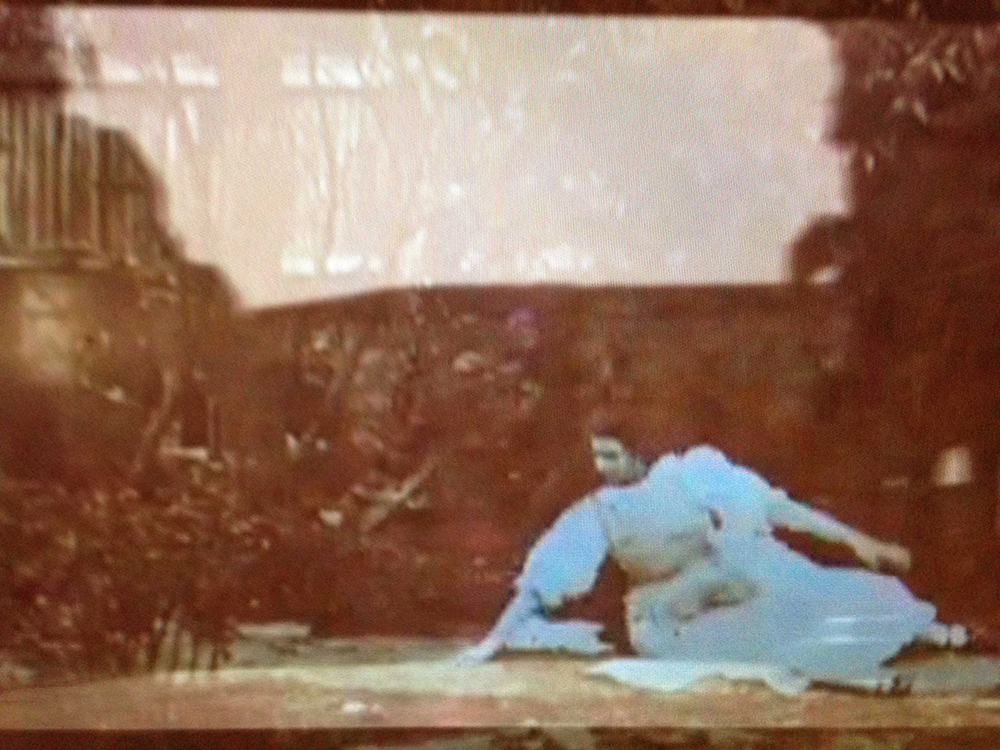 The working group Thinking Documentary Film (CineLab) cordially invites you to the public screening of Rania Stephan's film Memories for a Private Eye (2015), followed by a debate with the filmmaker. The event will take place on October 8, at 5:30 PM, at NOVA FCSH (Avenida de Berna, 26C) – Auditório A2 (Torre A).
The event will be free and open to all!
The event will take place within the scope of the activities of the research group Thinking Documentary Film and the research project PhilDoc – Philosophy and Documentary Film. Mediating the Real, both coordinated by Stefanie Baumann (CineLab/IFILNOVA).
About the film
Memories for a Private Eye is the first chapter in a trilogy that delves into the filmmaker's personal archive. Evoking the language of film noir, it foregrounds a fictional detective to help reveal deep and traumatic memories. The film spirals around a lost image: the only moving image of the filmmaker's dead mother. Weaving together images from different sources – private archives, the history of cinema, television and YouTube – the film unfolds into a labyrinthine maze, creating a blueprint of remembrance.
About Rania Stephan
Born in Beirut, Lebanon, Rania Stephan graduated in Cinema Studies from Latrobe University, Australia and Paris VIII University, France. She lives and works in Beirut, Lebanon.
Her career in film has been long and diverse. She has worked as first assistant with renowned filmmakers including Simone Bitton (Rachel, Wall, Citizen Bishara) and Elia Suleiman (Divine Intervention) as well as camera person and editor with academics in the social sciences (Map'Kembé, The Sky Cried 40 days, Procession of The Captives, Catherine or The Body of The Passion) and documentary filmmakers (Waiting for Abu Zeid, Panoptic).
She has directed numerous short and medium length videos and creative documentaries, which are notable for their play with genres, and the long-running investigation of the themes of memory, identity, archeology of the image and the figure of the detective.
Anchored in the turbulent reality of her country, her documentaries give a personal perspective to political events. She gives raw images a poetic edge, cutting chance encounters with humor.
The work on archival material has also been an underlying enquiry in her art work. Her most recent projects have investigated forgotten images and sounds that haunt the present. By juxtaposing them with new ones, she explores a diversity of meanings, triggering renewed narratives and emotions. Still and moving images collide and collude, multiply and subtract. Approaching images like an editor – part detective, part cinephile, she traces the absence and remembrance that are originary to those images.
She has had solo exhibitions at MoMA PS1, New York, Alt Art Space, Istanbul, Marfa' Gallery, Beirut and Frieze Art Fair in London, as well group exhibitions at Serpentine Gallery, London, MAXXI, Rome, Sharjah Biennale X, UAE, Marian Goodman Gallery, Paris, among others; and has participated in residency programs at the Serpentine Gallery, London, IASPIS, Stockholm, Iméra / Mucem in Marseille and Camargo Foundation in Cassis France.
Her first feature film, The Three Disappearances of Soad Hosni (2011) described as a contemporary classic, was internationally acclaimed and won numerous prizes: Artist's Prize: Sharjah Biennale 10; Renaud Victor Prize, FID Marseille International Cinema Festival; Best Filmmaker Award, Doha Tribeca Film Festival.
She just won Best Film Award at the Villa Medicis Film Festival for her second feature film In Fields of Words.
She has recently been appointed "Associate Artist" at the EHESS (École des hautes études en sciences sociales) in Paris, France.
Her art work is represented by Marfa' Gallery Beirut Lebanon.
Place
NOVA FCSH (Avenida de Berna, 26C), Auditório A2 (Torre A)