Outlab
•
ArgLab
•
CultureLab
•
EPLab
•
CineLab
• Other Courses
Summer School
Registrations are now open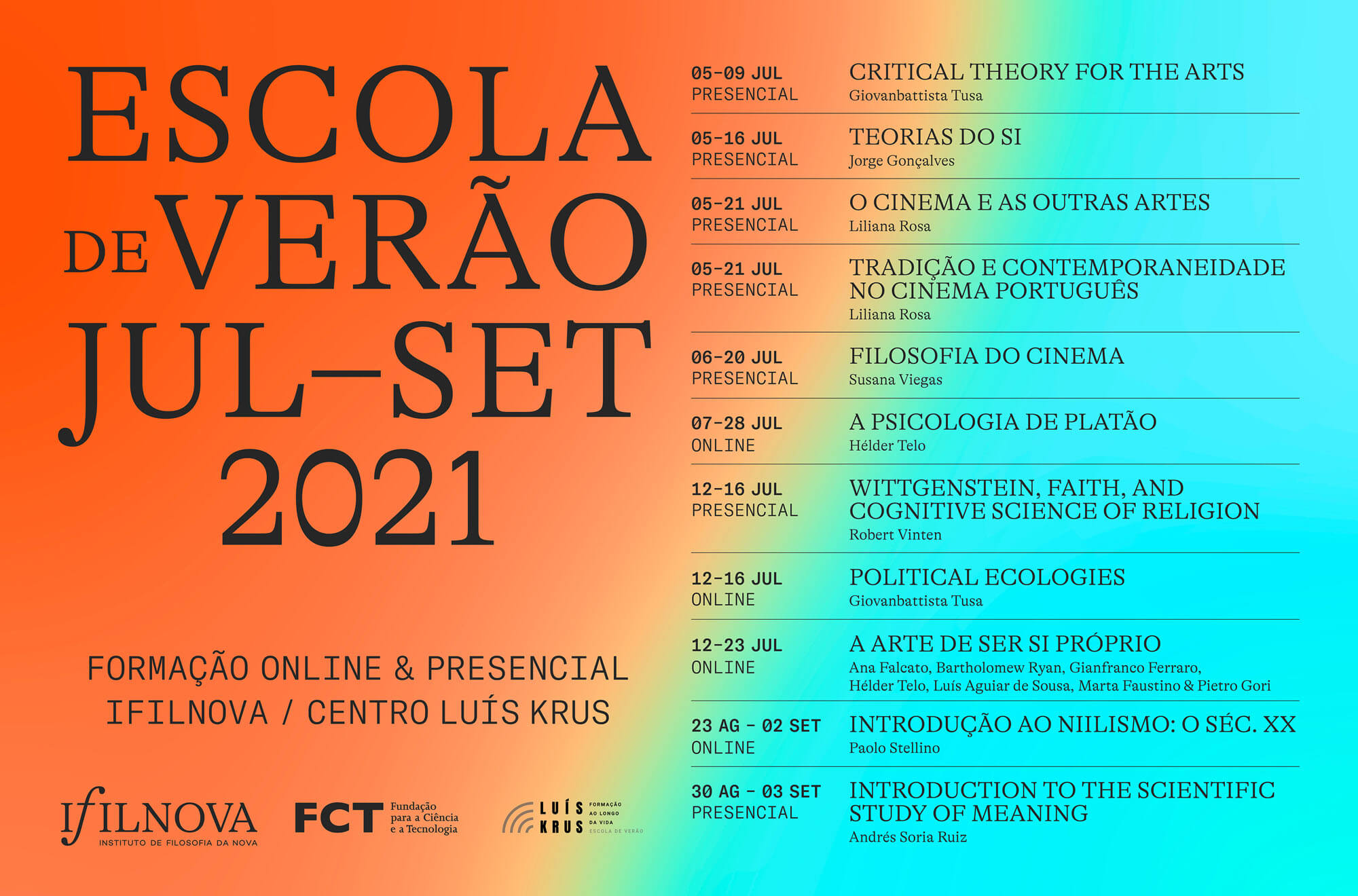 Registration for the summer courses is now open. Free admission: you do not need to present any certificate or previous application. Students may choose to take one or several courses, in the same area or in different areas, according to their interests and the availability of timetables and vacancies.
CRITICAL THEORY FOR THE ARTS
5 — 9 Jul
Giovanbattista Tusa
face to face
The course will look at the impact of philosophy, psychoanalysis and political theory, post-colonialism, feminism on contemporary art practice from different theoretical perspectives and critical debates in the field. The students will be supported in identifying thematics and practices that are relevant to their studio practice and assist in contextualizing their work.
Course taught in English.
TEORIAS DO SI
5 — 16 Jul
Jorge Gonçalves
face to face
The course intends to discuss, within a map of perspectives of contemporary interdisciplinary philosophy, the problem of the self: how to answer Descartes' question "what am I?"
Course taught in Portuguese.
O CINEMA E AS OUTRAS ARTES
5 — 21 Jul
Liliana Rosa
face to face
The objectives of the course are: to understand and acquire knowledge of contemporary Portuguese cinema; to identify the aesthetic perimeter associated with film genres, drawing from this exercise its potential and limitations and the learning of film analysis instruments.
Course taught in Portuguese.
TRADIÇÃO E CONTEMPORANEIDADE NO CINEMA PORTUGUÊS
5 — 21 Jul
Liliana Rosa
face to face
The program is divided into three modules: 1) History, memory and contemporaneity in Portuguese cinema; 2) Cinema and other arts: artistic dialogues between tradition and contemporaneity and 3) Cinema and Transgression.
course taught in portuguese
FILOSOFIA DO CINEMA
6 — 20 Jul
Susana Viegas
face to face
The course is intended to be an introduction to film philosophy through the study of two of the leading film philosophers of the 20th century, Stanley Cavell and Gilles Deleuze. The conceptual and aesthetic-cultural knowledge of the philosophy of cinema, as an interdisciplinary area, will provide students with critical instruments to think about the power of moving images today. We intend to analyze the following questions: What influence did cinema have on the philosophical thought of the 20th century? How did cinema become an influential medium for thinking about philosophical themes such as ethics, ontology, truth, historical time and the arts in general?
Course taught in Portuguese.
A PSICOLOGIA DE PLATÃO
7 — 28 JULHO
Hélder Telo
online
According to Plato's dialogues, the human being is essentially a psyche. In using this term to characterize our event, Plato is referring to Greek poetry (especially Homer), to the mysteries and naturalistic philosophy of the so-called pre-Socratics. However, the Platonic understanding of psyche involves a radical revision of what is at stake in that term and this revision is closely linked to the ethical, political, epistemological, ontological and aesthetic perspectives that appear in the dialogues.
course taught in portuguese
WITTGENSTEIN, FAITH, AND COGNITIVE SCIENCE OF RELIGION
12 — 16 Jul
Robert Vinten
online
In this course we will look at the work of a biologist (Richard Dawkins), an anthropologist (Pascal Boyer), and a philosopher (Daniel Dennett) who each think that the way to understand religion is to either (i) understand it as being in competition with science or (ii) to understand it using the tools of science (or both). We will examine Dawkins's understanding of religious belief and its relationship to evidence, and then look at Pascal Boyer's understanding of religious belief in terms of 'inference systems' in the mind/brain, and then look at Dennett's understanding of religion as a natural phenomenon, as well as at his understanding of consciousness.
Course taught in English.
POLITICAL ECOLOGIES
12 — 16 Jul
Giovanbattista Tusa
online
The "Political Ecologies" seminar will introduce the students to legal, environmental, and cultural forms of ecological thought, helping them to understand the historicity and materiality of the current age, marked by climate change and the irruption of viruses and artificial intelligence in the social science and humanities. The course aims to be an introduction to the most central issues for contemporary philosophy, art, and social sciences through a specifically ecological perspective. The students are asked to reflect, elaborate, create and possibly present their work and hypotheses on the contemporary age, and they will gain valuable knowledge in the fields of philosophy, ecology, media, and environmental politics.
Course taught in English.
A ARTE DE SER SI PRÓPRIO. Teorias Filosóficas sobre a Subjetividade
12 — 23 JULHO
Ana Falcato, Bartholomew Ryan, Gianfranco Ferraro, Hélder Telo, Luís Aguiar de Sousa, Marta Faustino & Pietro Gori
online
Who are we? What is that we call "I"? Is there even such a thing or is it just an illusion generated by our brain? Does the self coincide with the mind or does it concern something deeper in us, such as the unconscious or the body? Are we the same "I" from birth to death? Or is this identity merely illusory? Is what we call "I" one or is it intrinsically plural? Are several "I's" possible? Is the "I" anything stable or something that is constantly changing? Do we each make or build our own self?
Course taught in Portuguese.
INTRODUÇÃO AO NIILISMO: O SÉCULO XX
23 Ago — 2 Set
Paolo Stellino
online
The term "nihilism" is often used in a wide variety of domains: in politics, ethics, religion, cultural criticism, art, philosophy, etc. However, what exactly is nihilism? When did it appear? Are we still in a nihilistic age? And who are the nihilists? Are they the ones who "don't believe in anything" like in the Coen brothers' movie The Big Lebowski (1988)?
Course taught in Portuguese.
INTRODUCTION TO THE SCIENTIFIC STUDY OF MEANING
30 Ago — 3 Set
Andrés Soria Ruiz
face to face
Curso lecionado em inglês. The objective of this course is to gain a basic familiarity with contemporary topics in the scientific study of meaning. The course will consist of an introduction to natural language semantics and pragmatics as well as a survey of various topics of contemporary interest, some of which will be taught by invited experts on the field. Topics will include: natural language inferences, indexicality, expressive and subjective language and experimental methods.
Course taught in English.
Date
05/07/2021 – 03/09/2021