CineLab
• International Seminar
The Decentered Film: Place and Form
Intensive Seminars #4: Courtney Stephens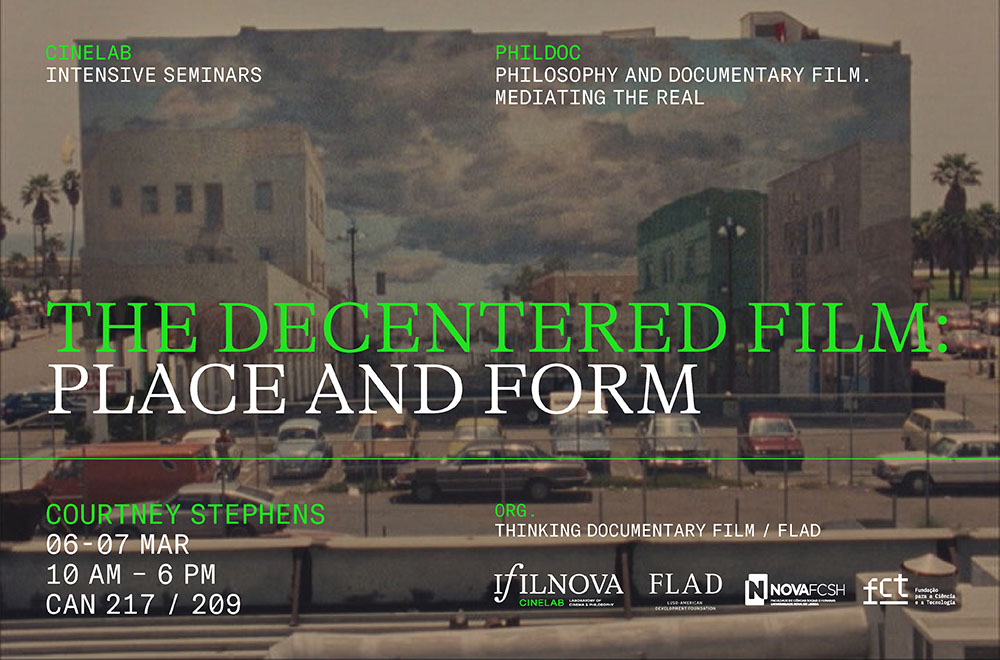 The two-day intensive seminar The Decentered Film: Place and Form, led by Courtney Stephens, will take place at Colégio Almada Negreiros, in room 217 (on March 6) and room 209 (on March 7).
How do layered representations of place provide a form for new perspectives? How do non-fiction films create dialogue between center and margin? How can we draw from literary essays, cartography, and other non-film mediums when thinking about how to structure time-based media? At a time when mainstream documentaries are under increasing pressure to provide character arcs, or to keep up with fast-paced journalism, this seminar will look at alternative approaches to truth-making that focus on geography and space to give form to ideas. Courtney Stephens will share films from her own body of work, as well as projects by other filmmakers, among them Alice Diop, Frederick Wiseman, Ursula Biemann, Thom Andersen, Kevin Jerome Everson, Brigid McCaffrey, Carl Elsaesser, Pat O'Neill. We will consider some poetic possibilities to suit a restless, urgent mode of non-fiction, that posits truth in the space between things; in spatial thinking itself.
Bio
Courtney Stephens is a writer/director of non-fiction and experimental films. The American Sector, her documentary (co-directed with Pacho Velez) about fragments of the Berlin Wall transplanted to the U.S., was named one of the best films of 2021 in The New Yorker. Her essay film, Terra Femme, comprised of amateur travel footage shot by women in the early 20th century, premiered at MoMA and has toured widely as a live performance. Her work has been exhibited at The National Gallery of Art, The Barbican, Walker Art Center, The Royal Geographical Society, BAMPFA, and in film festivals including the Berlinale, the Viennale, SXSW, IDFA, and the Hong Kong, Mumbai, and New York Film Festivals. Stephens is the recipient of a Guggenheim Fellowship, a Sloan Research Fellowship, and a Fulbright Scholarship to India.
This event is organized by the working group Thinking Documentary Film with the support of FLAD, and part of the project Philosophy and Documentary Film. Mediating the Real, funded by national funds through FCT – Fundação para a Ciência e a Tecnologia under the project EXPL/FER-FIL/0045/2021.
Date
06/03/2023 – 07/03/2023
Place
Colégio Almada Negreiros, Room 217 and 209